Do you hate having to get out of your pajamas and making yourself look presentable to go outside and shop? Do you hate the hassle of having to physically leave the house with the kids in tow to get your shopping done, especially when it's a task like picking out window treatments that will surely bore the kids?
Sometimes you wish you could just look at the window treatments you want and have someone come to you to take care of it. Well your wish is our command! With our free shop at home service for window treatments in Madison, CT, you can get everything you want without having to leave your home!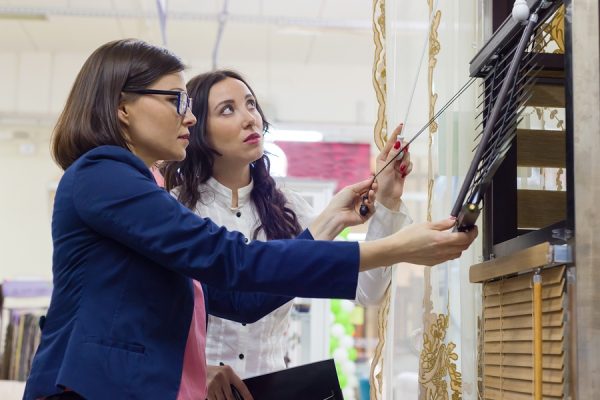 How Our Shop at Home Service Works
Just like how you would shop online at Amazon, you look at all of our window treatment offers online and write down your favorite ones. You then give us a call and schedule an appointment for a time that's most convenient for you.
One of the biggest benefits of our shop at home service for window treatments is scheduling. You get to decide when is best for you and we will show up. Once an appointment is scheduled, one of our window treatment experts will come to your home to see the windows themselves, get some measurements, and discuss with you what you are looking for.
Our experts will also let you know which window treatments will work best for your window style and size, along with if there are any window treatments that absolutely won't work for your window. Then we'll talk budget. We want to know what you're comfortable spending. We're not here to talk you into something more than you can afford.
You let us know what your range is and we will offer window treatments within that range that match your dream. Once money is decided and your options are in front of you, it's decision time!
Window Treatment Installation
After you've made your decision on your perfect window treatment, we will take measurements of your windows once again so we have precise measurement to get the perfect fit for your treatment. Then we will go back to our store, grab and measure out your treatment choice, all the while you are at home relaxing.
If a same-day installation doesn't work for you, we will make another appointment for a different day. Whatever your window treatment dreams are, make them come true from the ease and comfort of your home. Call us today at (203) 421-7978 to start your free shop at home service for window treatments in Madison,CT!