SHUTTERS
A HUNTER DOUGLAS PRIORITY SHOWCASE DEALER
WE WILL BRING OUR SHOWROOM TO YOUR ROOM
Functional Window Shutters in Madison, CT
Everyone has their own idea about what makes a home attractive. Many people like to decorate with accessories that are stylish and functional. You have many choices in home décor, but window treatments are fashionable choices. Shutters are especially a nice choice because you can use them to dress up rooms and make your home inviting. Give your home a distinctive appearance with the best window treatments from Blind & Shade Products LLC.
All our window shutters in Madison, CT, are indoor air quality certified under the Greenguard Children & Schools Program. Don't hesitate to contact us.
HARDWOOD SHUTTERS
Hardwood Shutters offer the unparalleled beauty, performance and character of genuine wood shutters.
Like wood floors, hardwood shutters can help you create a classic and elegant décor throughout your home. Shutters have practical uses in addition to making your home look beautiful. You can also use them to control the amount of light that enters a room, allowing you to create a dramatic effect with light and shadow. Additionally, some consider them the best window treatments because of their durability and long-lasting quality.
HYBRID SHUTTERS
Hybrid Shutters offer the strength, stability and straightness of advanced modern-day materials with the classic look of wood.
This shutter style is strong, functional, beautiful, and easy to maintain because it is made from natural and composite materials. Hybrid Shutters help you create the look you desire without having to worry about constant upkeep. One of the biggest pluses of all shutters is that you can use them to regulate indoor temperature, which helps you save on energy costs.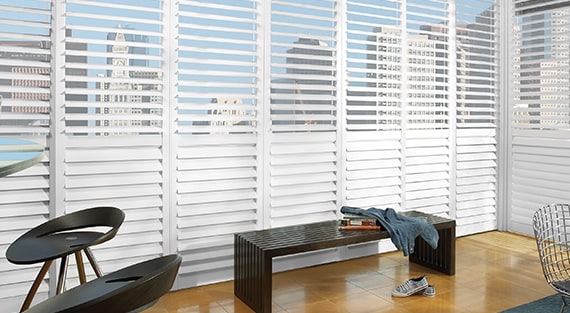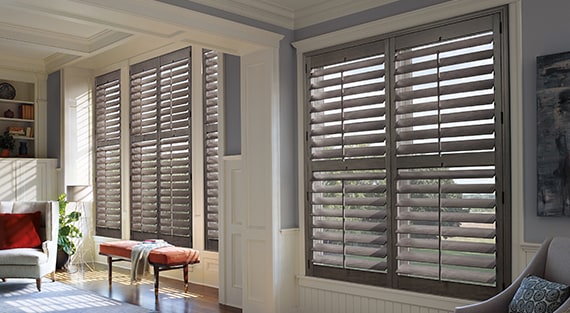 CHOOSE FROM 15 PAINT COLORS AND 21 STAIN COLORS