SUNROOM SHADES
For residential and commercial four seasons sunrooms/solariums
Insulating Shades for Sunrooms & Solariums.
Save your Heat!
We have the most extensive selection of Sunroom or Solarium Shade Systems that you will find anywhere. There are a variety of durable, moisture-proof fabrics, textures, weaves and attractive fade-resistant designer colors to choose from.
The smooth-operating, gravity-fed system makes operation of our shades a breeze. Fiberglass battans, spaced at 10-inch intervals, provide the support for the nylon gliders that fit into the track, allowing the shade to precisely follow the contour of the solarium for a beautiful, fitted look.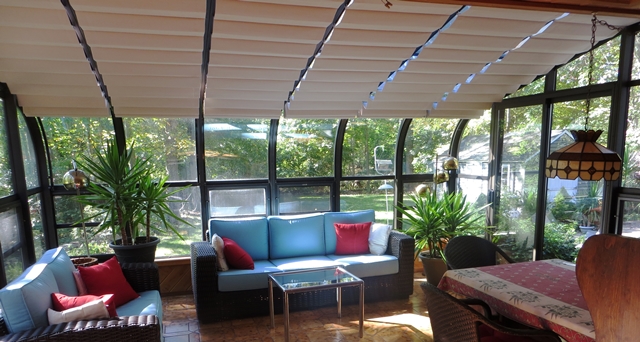 The choice of fabrics also gives you the ability to control the amount of privacy, degree of transparency, heat reflectivity and heat retention. Select from acrylic (insulated with mylar or foylon), Sheerweave Sunscreens or Suntex fabrics.

Exterior shades are the most effective way to reduce heat gain. They can be fixed or roll-drop. Sunscreen fabric with different degrees of transparency can be chosen, depending on how much you want to see through when the shade is down. These fabrics are made exclusively to block heat and UV rays, heat and glare, but allow you to see through them.
Cover individual bays or multiple bays with one shade. We make them to your specification. You can utilize the existing tracks in your Four-Seasons Sunroom or if you have a frame such as wood, we make the tracks to support the fabric. E-mail us a photo of your sunroom and we will tell you which system would work best for you.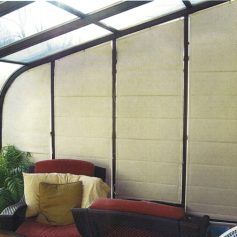 Click the thumbnails below to view a larger image.